Why Pakistan is the most dangerous country in the world?
Former US Secretary of Defense James Mattis has described Pakistan as "the world's most dangerous country".
In James Mattis' recently published book "Call Signs Chaos," he describes various issues, including radicalization, the rise of nuclear weapons in Pakistani society.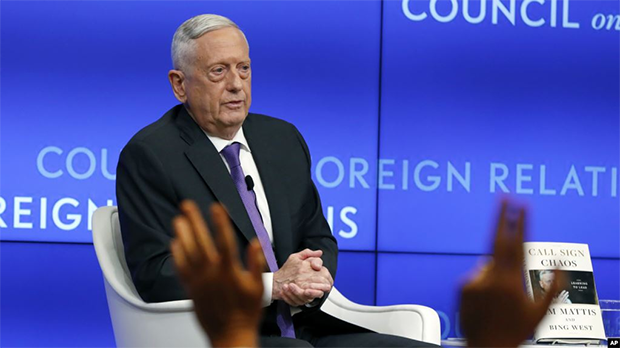 After serving for decades in the US Army, 66-year-old James Mattis has also served as a defense minister in President Donald Trump's cabinet from January 2017 to January 2019.
He resigned from his post after differences over various issues, including Afghanistan. According to observers, his long service in the military also exceeded expectations.
According to Russia's Broadcasting RT, Call Meat Chaos, James Mattis has claimed that Pakistan's government views the politics of the region as hostile to India.
Referring to Afghanistan, he wrote that Pakistan's government believes that the establishment of a friendly government in Kabul will prevent the increasing influence of India in the region.
James Mattis also writes, "I consider Pakistan the most dangerous of all the countries I have dealt with. Because in this society they have nuclear weapons besides radicalism."
He wrote that nuclear weapons could not be allowed to grow rapidly in the world, which could have dangerous consequences if they went into the hands of terrorists.
However, he did not specify which direction he was pointing to, or what extremist thinking people had access to nuclear weapons.
In his book, Jimmy Mates mentions the relations between Pakistan and the United States in many places, but he has not expressed much positive opinion of politicians.
He claimed that there is no leadership in Pakistan who thinks about the future of ordinary Pakistanis.
In his book, Jim Mattis describes the relationship between Pakistan and the United States as 'too complicated'.
Remember that President Trump's former defense minister's book was published when the US government relied heavily on Pakistan in the peace process in Afghanistan.
James Mattis wrote in the book that we could solve our problems with Pakistan, but the differences between us were very deep and there was a serious lack of confidence in the solution.
Referring to the Pakistan Army, he also claimed in the book that the casualties of the Pakistani army while fighting against terrorists increased more than the NATO and coalition forces fighting across the border in Afghanistan.