Pakistan's e-bike: 'No smoke nor noise and spend even 500 rupees monthly'
Motorcycles are considered to be middle class rides in Pakistan and this is the segment that is most affected by rising inflation.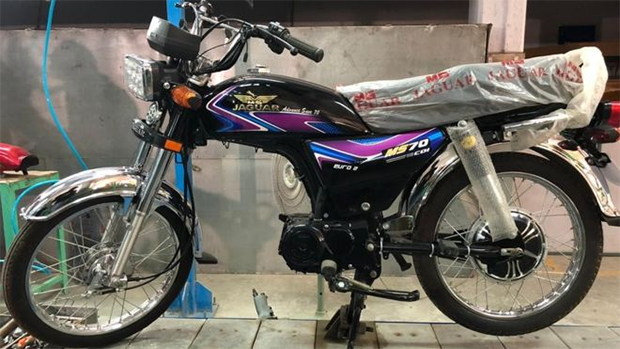 As oil prices rise in the world, the first thought that comes to the mind of Pakistanis is how much more expensive petrol will be next month and how will this inflation affect their budget.
Over the past decade in Pakistan, various companies have introduced electric-powered motorcycles to solve this problem, but most of them were imported and could not be popular with the public because of the cost.
However, now two companies in Sahiwal, Punjab province of Pakistan have started collaborating to manufacture electric motorcycles in Pakistan.
Osman Shaikh, CEO of Ouj Technologies, a Lahore-based electric motorcycle company, told the BBC that he was one of the first assemblers to manufacture electric bikes in Pakistan, which he designed.
These motorcycles are being manufactured on the popular Japanese design style in the market, meaning they have the same shape and design as ordinary motorcycles, instead of just petrol engines, they have electric engines installed.
According to him, the future of electric-powered technology and many countries are now preparing for it, and for this reason electric vehicles and motorcycles are being made in many countries in China, Japan and Europe.
Usman Shaikh said his company has decided to take advantage of the existing gasoline-based ecosystem of gasoline-based motorcycles, while locally developing an electric battery system.
"As many Chinese companies came, they used the same (Japanese) design because it had ecosystems and spare parts in Pakistan."
"We have designed and assembled controllers, battery management systems (BMSs), chargers, motors and battery packs," he said.
Chaudhry Zahid, chairman of MS Group, another manufacturer of such motorcycles, described the electric motorcycle as something like: 'It has nothing to do with gear, kicks, gear levers, moble oil and chain gari sets.
Usman Shaikh says his electric bike range is up to 70km and can be charged in five hours at home or office. According to him, the price of the motorcycle is currently priced at Rs 88,000 but efforts are being made to reduce it.
Can petrol bikes also become electric bikes?
Usman Shaikh also said that if a person wants to change his petrol motorcycle into an electric motorcycle, this is also possible.
"If someone wants to fit an (electric) kit in his bike, we have a solution."
He said that the electric kit his company manufactured was made with the Japanese-designed motorcycle in the Pakistani market, so it is possible to install it on a normal motorcycle.
Those wishing to do so could turn their existing petrol-powered motorcycles into electric bikes, even in installments, he said.
"If you want to have an electric kit installed on your motorcycle, its monthly installment will be Rs. 5500 which will last for one year."
Is Electric Bike Affordable?
Chaudhry Zahid says that the use of electric motorcycle can not only get rid of gasoline and other expenses but it is also environmentally friendly.
'Green technology can also play an important role in individual savings and environmental protection. There is no smoke in it, pollution is not in it and the other is no noise. '
He said, "If a normal (petrol bike) gives 50 km average, its monthly expenditure will be about Rs 4,000 but the cost of electric bike will be only Rs 500."
Electric Vehicle Policy in Pakistan
The PTI government this year announced the introduction of Pakistan's electric vehicle policy on which the Ministry of Environment and Industry is working.
Prime Minister Imran Khan's adviser on climate change Malik Amin Aslam had said that by 2030, 30 percent of vehicles in Pakistan will be electric, while Prime Minister's Adviser on Trade Abdul Razzaq Dawood says electric vehicle policy will be made part of the current auto policy. ۔
Assemblers who are interested in making electric vehicles and motorcycles in Pakistan look forward to the government's policy and seek early relief from customs duties and taxes in this regard.
According to Chaudhry Zahid, "When something is to be facilitated or brought forward, then government support is also necessary."